Satellite CARES: Community Aid Relief Efforts
The SBCA Foundation partnered with the Information Technology Disaster Resource Center (ITDRC) to form the Satellite CARES (Community Aid Relief Efforts) program to provide support to local communities that have been impacted by natural disaster.

Satellite technology is an ideal platform for these emergencies in that it can be quickly deployed and moved to meet the needs of the responders. The satellite industries extensive network of retailers and installers have also volunteered their time and expertise to help their local community recover from these tragedies.

Disaster recovery to help those in need
---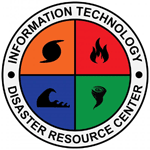 The Information Technology Disaster Resource Center (ITDRC) was founded in 2008 to provide communities with the technical resources necessary to continue operations and begin recovery after a disaster. We harness the collective resources of the technology community to provide no cost Information, Communications, and Technology (ICT) solutions that connect survivors and responders.
---
Frequently Asked Questions
What resources does the satellite industry provide?
The ITDRC in partnership with the Satellite CARES network provides satellite television and internet services to support local disaster relief efforts. The satellite industry provides equipment, installation and services at no cost for the duration of the event.

What groups do we support?
After a disaster in a local community, our services are deployed to support Command and Resource Centers, Volunteer Coordination Areas and Recovery Operations Locations. In some cases we work in partnership with other organizations and industries to maximize our effectiveness.

How long do deployments last?
We are deployed as long as there is a need. Sometimes it is only for a few weeks, other times it can be significantly longer. There are still satellite resources being utilized in relief of Hurricane Sandy in New York.

How is the effort coordinated?
The Information Technology Disaster Resource Center (ITDRC) coordinates all of the deployments. It works with the satellite industry to ensure equipment, installation and service is activated in a timely fashion and maintained throughout the time in need.

What type of disaster do you respond to?
Hurricanes, fires, floods and tornados are the most common reasons for deployment; however we can provide services to any disaster that might impact a community. We can offer support to any community in the US.

How many locations are you currently providing resources to?
The CARES network is currently providing resources at 31 locations throughout the US. This number constantly fluctuates as deployments wind down and others occur.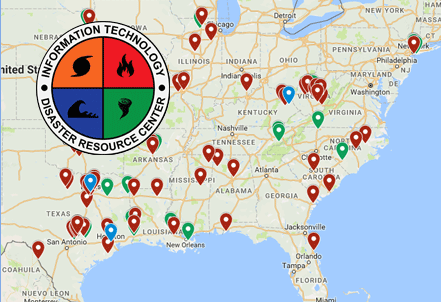 Learn More and See Where We're Currently Deployed in the US
Is your community affected by events such as hurricanes, tornados or other weather related events? Do you have a tech background and are interested in volunteering your time with the ITDRC? Click the button below to learn more about our passionate team and see the areas in the country where we are currently deployed.